Laces & News
What's Going On?
Social Flings
Our Favorite Runs
2013
Summer Party and Annual Club Meeting
Mark the date, our annual club meeting is set for Sunday, June 23rd. Email glenn@bachmannsoftware.com for details!
Spirit Of The Marathon 2!
One of our favorite running movies, Spirit of the Marathon, is now premiering as a sequel. Tickets are now available for purchase at the Sparta Theatre. Cost is $12.50 and it starts at 7:00, Wednesday, June 12th. We're also going to attempt a run before and do drinks/food after at Kroghs.
National Running Day June 5th
Every year we celebrate with a group run and this one is no different - join us at Kittatiny State park!
2012
Girls On The Run
We partnered with the local chapter of Girls On The Run hosting training runs and volunteering at the girls first 5k race at Lake Mohawk
River to Sea Relay
We did it again! Another hot day, another trek across New Jersey by our brave Sparta Runners team.
2011
SRC SUMMER RACE Series
This summer, our club is hosting a summer race series consisting of 5 races held locally for club members and their guests only. Our first race was held on June 21 with 17 participants. Here is a list of upcoming races and a link to the results. Pizza Party afterward!
July 30 - River to Sea Relay
Seven runners from the club have joined to form a relay team for this years' River to Sea Relay. None of the team has been on a relay race before, but we've already found our team name "Seven Bad Asses", designed a team-logo and are getting ready. This year the R2S race is packed with over 100 teams. 92 miles, 14 legs, handi-capped start, first to the ocean wins... It is shaping up to be a good time.
Resolutions for 2011
So do you have a New Year's Resolution? Yeah, they can be tough to keep when you try to go it alone. Why not join a club where you'll have company in your resolution? It's a great way to have an instant support group. Don't feel like running? Make a date with another member to put in 1, 2 or 3 miles.
Here's an easy one: make a point to come to our Wednesday night run or Saturday run. Can't make the group runs? Put out a request to the club to see if anyone can run on a Sunday or weekday.
2010 From the New York Road Runners: A Running Start
A FREE web-based resource that helps teach kids to run. More than 80 activity demonstration and best practices for teaching the fundamentals like form, pacing and agility. NYRR is giving away $10,000 to celebrate the launch of the web site. Anyone who signs up for the free newsletter
will be entered in a weekly drawing to win a bag of running gear and $1,000
award to a group to support youth running.
January 2010
First annual Resolution Run attracted many of our club members who ran or volunteered for this exclusive invitation-only event.
December 2009
Annual Jungle bell run around the lake is on Saturday, Dec. 19. at 8 AM at Dave's house. A fun run in the Sparta Mountains - wear your Red! Bagels and hot cocoa afterward. Contact Dave or Pam for details.
October 2009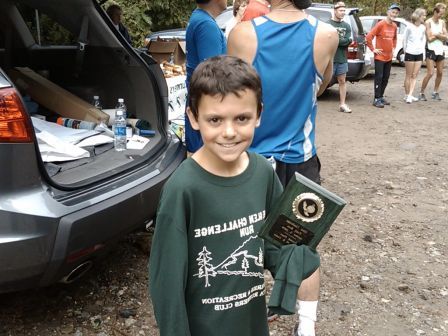 Sparta Runners Club's youngest member, Chris Scott, made his début at the Glen Challenge and placed second in his division. Chris Scott participated in the revitalized Sparta Glen Challenge race on October 3rd which is a cross-country style trail race held in the Sparta Glen. After months of watching his mom, Kathleen Scott, run and race with the club, Chris was determined to join in the fun. He decided to attempt what turned out to be a very challenging course as his first race. The hills were a killer, but he managed them very well. Great job, Chris! (photo courtesy of Kathleen Scott)
September 2009
Membership renewals are due on October 1. Members should have received a reminder via e-mail. Please contact Pam or Glenn regarding renewals - remember, if you joined this year after July 1, your membership fee covers the next year as well. Lucky you!
Haven't joined yet? No worries, why not come out and meet some of our members at a weekly run - see the club calendar for our Wednesday and Saturday locations and times. We love meeting new people and welcoming back friends after summer vacations and time away. It's all good!
June 2009
Update on the National Running Day, June 3rd
Okay, so it rained. But that did not stop us from holding our open house and yes, we had a visitor who was interested in joining our rag-tag group! Then 4 of us headed out in the drizzle for a 6 miler doing the run/walk method of run 5 minutes, walk one minute. We had a blast. Come run with us on Wednesday nights for a nice trek through town. We meet at Station Park Duck Pond at 6:30 PM. We run/walk anywhere from 4-6 miles.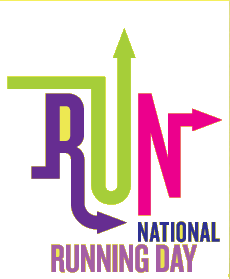 The Sparta Runners Club is hosting a free Open House from 6:00 PM to 8:30 PM on Wednesday, June 3rd at the Pavilion in Station Park to celebrate National Running Day.
At this special event, members of the local SRC will be greeting participants and providing information on running, run/walk, and other run related topics for beginners and experienced runners. The Club will also lead participants on a run/walk for beginners and a longer run for experienced runners starting from the Pavilion at 6:30pm. Water and Gatorade will be available to participants.
National Running Day is a new initiative whereby many major organizations within the running industry are joining forces to nationally and locally promote running as a healthy, easy, and accessible from of exercise. From New York to San Diego, the day will celebrate the benefits of running as part of a healthy and active lifestyle aimed at combating some of today's most pressing health issues.
"During these times, we all could use a good run." said Pamela Conlan, President of The Sparta Runners Club. "Running is fun, inexpensive, easily accessible and perfectly targeted at some of the biggest health issues we're facing, like childhood obesity, heart disease, and stress. Best of all, you don't have to be an experienced runner to participate. Whether you run for five minutes, 15 minutes or 45 minutes, every little bit counts."
For anyone interested in joining the group run, please be at the Pavilion by 6:15 PM, and wear comfortable exercise clothes and sneakers.
December 2008
101 Reasons Why We Run by Pam Conlan
October 2008
September 2008
Running A Marathon In Training For A Marathon
by Val Lalor with Colleen Seise
August 2008
3 Days: 60 Miles, My Journey
By Colleen Seise
I Ran the Half-Wit Half Marathon, and Lived to Tell the Tale
By Amy Farr
July 2008
On a sunny July morning a few "Rebel Runners" decided to follow a route one of us found on Map My Run (great site!). Anyway, we started in Loantaka Park in Morristown and did a 17 mile loop through the Great Swamp - what a blast. A bonus was that we met some really friendly runners from the Rose City Runners Club that meets there every Saturday morning. They were kind enough to invite us to run any Saturday morning - just bring a little something to share for an after run meal. Great stuff!
Loantaka Park-Great Swamp Loop (16.83 mi.) Morristown, NJ
June 2008
Garmin 405 v 305
By Kent Roeder
June 200: Visitors from Iowa!
In early June we had the pleasure of hosting two runners from the Missouri River Runners club based in Sioux City, IA. Dean and Lorraine ran with us on a VERY hot and humid Sparta morning for an 8 mile, hilly trek through Sparta Mountain. They were in town for a family event and found us on Running in the USA under clubs. How wonderful! Be sure on your next trip to check out that website to see if there are clubs in the area. - Run On, folks!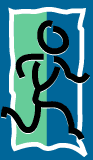 <-- Link to the Missouri River Runners website.
---
Why do you run? We've taken a poll of our members and we've found we love eating and drinking too! Want to take part in one of the rewards of running? Come to our rockin' social events, but you gotta join first!